Testimonials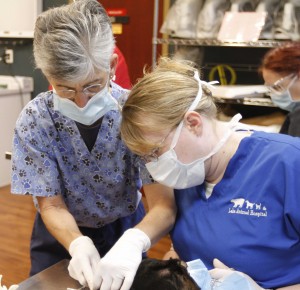 I am so glad I took the VDENT Canine Dentistry Seminar. The material was presented in a manner that was interesting and easy to retain. All of the information was in the course notes which have proven to be a useful reference that I go to on a regular basis. The hands on part of the seminar was great. The instructors were very patient and were able to work with every student and there was more then enough time provided. The skills that I learned in the course have greatly improved our patient care and our client's appreciate the results. In the future I will definitely be taking the Feline Dentistry Course and plan on sending my technicians to the courses.
-Mike Malitz, DVM
---
Dr. Charlier's three day dental seminar was the most worthwhile C.E. event I have participated in in my 12 years of practice. Not only does it provide excellent education about a topic that will be used on a daily basis in practice, it was also fun and entertaining! Dr. Charlier is a great speaker who makes the lectures interactive and interesting. So often, you go to a C.E. event and are bored from hearing the same topic over and over again, have trouble following the speaker, or do not gain any worthwhile information to put into practice. None of that applies to this C.E.! It was far from boring, it was information that was new to me or I hadn't ever really heard since vet school, Dr. Charlier was very clear, easy to understand and funny, and I have more information to put into my practice now than I ever thought possible from one C.E. event! The take home materials are extensive and Dr. Charlier offers additional support after the event is over. She is open to continued communication for information on supplies, ideas of how to implement things in practice, etc. If you are at all considering expanding the dentistry aspect of your practice, take this course!
-Megan Welbourne, DVM
---
The VDENT veterinary boot camp ranked as one of the best CE opportunities I have attended in over 30 years of practice. Dr. Charlier is an excellent and engaging educator. The new knowledge will definitely expand the number of dental procedures we do in the practice. This is a course all veterinarians both old and new can benefit from taking.
-Julie Kreeger, DVM
---
Thanks to Dr. Charlier, I am seeing pathology like I never have before!  I have myself booked out 2 weeks just by changing what I do in exam rooms.  I have a feeling that things are going to be a lot different at our clinic!
-Beth Knutson, DVM
---
I participated in Dr. Charlier's 3-day continuing education dental seminar. Coming into the course, my dentistry skills were quite limited.  From the first day's review of dental anatomy and pathology, to learning to both take and interpret dental radiographs, to the hands-on wet lab on the final day, Dr Charlier was an enthusiastic and encouraging teacher. My confidence and enjoyment level with respect to periodontal procedures being both recommended and performed at our clinic has grown exponentially. I would without hesitation recommend Dr. Charlier's continuing education seminars to any veterinarian or veterinary technician interested in either learning or simply enhancing their dentistry skills.
-Jane Fleming, DVM
---
Because of Dr. Charlier, I performed my first extraction using pre- and post-op films and an open oral surgery technique.  The VDENT seminar was a great experience, and I was able to use what I learned immediately.  I feel like a good vet today, and I thank Dr. Charlier for that!
-Jennifer Hart DVM
---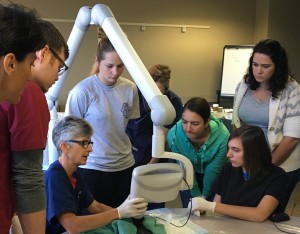 The veterinary dentistry continuing education program provided by Dr. Charlier was just what we needed to jump start our dentistry practice.  Like many veterinarians, we had been trying to grow our dentistry practice, but struggled because our staff was at different levels of education and understanding of veterinary dentistry.  We closed the practice for an entire day and dedicated the day to veterinary dentistry continuing education with Dr. Charlier.  We are now identifying and treating patient's dental needs with confidence.  Furthermore, the more dental procedures we do, the easier they are to recommend as clients notice the difference in their pet's attitude and activity.
-Scott Bernick, DVM
---
In the fall of 2013, I had the pleasure of meeting Dr. Cindy Charlier and her skilled teaching staff during her three day CE course. Hands down, it was the best investment in continuing education I have made to date.   I have attended all of the major conferences, taken many wet labs, and sought hands on instruction since graduating from veterinary school in 2006.  During my final year in clinics at Wisconsin, I chose two blocks (one month) of dental instruction.  In three days, I learned more useful technical skills than I did while in school.  I have already applied what I have learned to the emergency practice and day practices where I work.  I feel I my confidence, skill and surgery time have all improved significantly.  Dr. Charlier is an excellent communicator and has obviously invested countless hours tailoring the course to fit the needs of veterinarians in practice.  I highly recommend this course to veterinarians and their technicians!
-Jamie Melin, DVM
---
I attended Dr. Charlier's wet lab.  I learned a ton and am putting it to good use!  We have greatly increased our dental practice and for the first time in my 15 year career I am enjoying dentistry!  Thank you!
-Shellie Antey-Thompson DVM
---
Dr. Charlier's course provided me with a solid foundation in dentistry that I put into use immediately upon return to my practice. Her excellent course materials enabled me to train my dentistry technician to perform thorough scaling, polishing, and charting. Within several days, we were taking diagnostic quality dental radiographs, and performing surgical extractions. Our confidence in the service we are providing to our patients is reflected in our revenue. Our dental income has nearly quadrupled in the past six months.  We are booked a month in advance for dental procedures. It is most rewarding to hear clients commenting at their recheck appointment that they have a different pet now that they are pain free!
-Kenyon Brewer, VMD