Customized Education
Customized Veterinary Dental Education for Your Hospital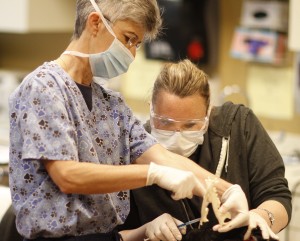 We can work together to customize a seminar or seminar series that will best meet the needs of YOUR hospital.  Expanding your staff's knowledge of veterinary dentistry will allow them to provide enhanced dental care for your patients, and can help improve practice profitability.
In addition to staff education, we can evaluate your current equipment, advise you on future equipment purchases, and provide you with client education materials.  Our solutions are comprehensive and custom-tailored for your hospital, and in certain cases can also provide CE credits for your veterinarians and technicians.
To learn more about customized veterinary dental education for your hospital, please contact us at info@vdent.org.
Personalized Veterinary Dental Education – It's All About YOU!
Are you a veterinarian who wants one-on-one training to take your dentistry skills to the next level? Dr. Charlier will work with you to build a program that is tailored specifically for you to provide an educational experience that you won't find anywhere else!  Dr. Charlier will provide her expertise and hands-on training in a one, two or three day program.
To learn more about personalized, one-on-one education, please contact us at info@vdent.org.
---
On behalf of myself and my entire team…….THANK YOU!  The training you provided was excellent and my entire team learned important information and tools that will help us to launch a successful dental program at our hospital.  Personally, I appreciated your interactive and engaging not to mention professional approach/style.  My entire team described the seminar as "fun"!  We look forward to implementing a quality dental program at our hospital.
– Dr. Robert Hagler
Thank you very much for taking the extra time to come in to help us with new ideas and equipment that will make things go more smoothly for us and our patients.  We appreciate your energy and enthusiasm to guide us.  We hope to continue addressing more of our patients' pain and oral disease — almost every patient we see has some degree of dental disease that we can help with and/or start teaching owners about oral health and care at home.
– Dr Joanne Hach
Having Dr. Charlier come to our practice was one of the best educational investments we have ever made.  The greatest benefit was that our whole team was involved. How often to you go to a meeting, come back excited about all you learned, only to be shot down by your colleagues who did not attend the meeting?!  By the time Dr. Charlier left our practice, everyone (CSR's, techs, and doctors) was "on the bus". She not only improved our surgical techniques but also taught us better communication skills to help our clients understand our recommendations.
– Dr. Brent Cook